Tosterups Premium Apple Juice and Cider
Tosterups Premium
Apple Juice and Cider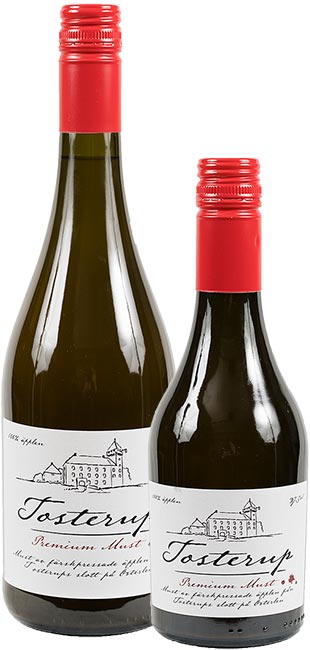 Tosterup Premium Apple Juice
The taste is pleasantly sweet but also refreshingly tartness.
Pure and genuine apple flavor with no shortcuts.
375, 750 ml
Welcome to our magnificent assortment of beverages. Among our unique selection of products, we have one particularly special, our Verjus, made of unripe apples which gives a crisp tone of tartness. The Verjus makes an excellent non alcoholic substitute for wine. We also have a sparkling non alcoholic cider and an prize awarded apple juice in our collection. Moreover, we produce two variations of alcoholic cider, were one is a half dry cider with 3.6% and one dry with 5%.
All of our beverages are made from handpicked apples from our very own orchard here at Tosterup. We do not use any additives, it purely consists of raw juice from the apples which has grown and ripened on the southern slopes facing the brisk Baltic Sea. As the apples have ripened, they are gently cold pressed before the natural pasteurizing process of the raw juice. The non alcoholic range are available in both big bottles (750ml) and small ones (375ml), except for the Verjus which at the time only exists in 375ml bottles.
The non alcoholic cider is made the french way and the filtered raw juice naturally carbonates at low temperatures during fermentation with the purpose of keeping as much aroma as possible. The fermentation process lasts between four to six months before it is bottled and ready for delivery in their 365ml bottles.
Tosterup Premium Apple Juice
The taste is pleasantly sweet but also refreshingly tartness.
Pure and genuine apple flavor with no shortcuts.
375, 750 ml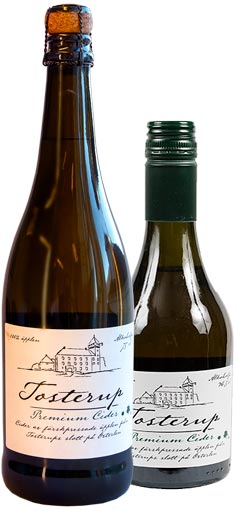 Tosterup
Premium Cider
Non Alcoholic
Balances a crispy feeling with a certain bitter tone that refreshes the highlighted but integrated sweetness and tartness.
365 ml, 750 ml

Tosterup
Premium Cider
3,6% Alcohol
French inspired low alcohol cider. Nice little funky scent of barn, straw, honey and ripe apples. Given air the fruitiness takes over more. Semi-dry.
365 ml

Tosterup
Premium Cider
5,0% Alcohol
French inspired cider with embracing scent and shades of vanilla, honey, Danish apple cake, ripe red apples and straw. Dry.
365 ml

Tosterup Verjus
Early harvested fruit provide a scent of fresh and sour apples. Tastes of discreet sweetness and sizzling beautiful salivating tart tones.
375 ml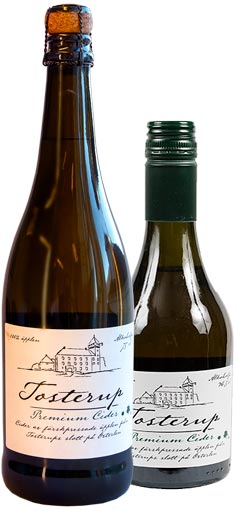 Tosterup
Premium Cider
Non Alcoholic
Balances a crispy feeling with a certain bitter tone that refreshes the highlighted but integrated sweetness and tartness.
365 ml, 750 ml

Tosterup
Premium Cider
3,6% Alcohol
French inspired low alcohol cider. Nice little funky scent of barn, straw, honey and ripe apples. Given air the fruitiness takes over more. Semi-dry.
365 ml

Tosterup
Premium Cider
5,0% Alcohol
French inspired cider with embracing scent and shades of vanilla, honey, Danish apple cake, ripe red apples and straw. Dry.
Torr.
365 ml

Tosterup Verjus
Early harvested fruit provide a scent of fresh and sour apples. Tastes of discreet sweetness and sizzling beautiful salivating tart tones.
375 ml
PACKAGING, PRICES, DELIVERIES
Our Premium Must has the following delivery options:
5cl in box with 12 bottles
75cl in box with 6 bottles
Full and half pallet
Please don't hesitate to contact us if you are interested in ordering or have any questions regarding our beverages, prices or terms of delivery.
Contact: Catherine Ehrensvärd, +46700905316 or info@tosterup.se